Quick, clean flooring renovations without business closures.
With switchTec® it is now possible to renovate floors without causing unnecessary disturbances or closing businesses. Floor coverings can be replaced quickly, quietly and cleanly, then years later can be removed without leaving any residues. switchTec® is designed to meet the needs of clients and can be used discretely so that normal business hours are not disrupted during installation and future removal. The tape allows quick and clean flooring renovations and enables floors to be refurbished almost anywhere from shops, offices to hospitals and homes.
For retail
• No downtime or operational loss as floor remains in use.
• Suitable for trolley and forklift transport.
• No dirt or dust.
For residential
• Quietly and quickly renovate floors with little disturbance.
• Solvent-free and low-emission.
• Can be used over underfloor heating.
For offices / rental properties
• Quiet installation.
• Flexible reuse.
• Floor covering can be replaced years later without leaving any residues.
For nursing homes / hospitals / public buildings
• Solvent free and low emission. Meets LEED & BREEAM certification.
• Meets fire rating Bfl-S1.
• Floors immediately ready for use.
What is switchTec®?
switchTec® is a range of self adhesive tapes which are wound onto rolls. A micro-perforated polyethylene film is coated on both sides in the factory using different dispersion adhesives. The adhesive strengths are matched to various substrate types. All switchTec® products provide an alternative to wet adhesives or loose lay systems when installing floor coverings or skirting. Sigan® is one range of products from switchTec® whereby a variety of floor coverings such vinyl, luxury vinyl tiles and carpets can be fitted onto subfloors or existing floor coverings.
Sigan®. How does it work?
A new floor covering can easily be applied onto an existing floor covering (or subfloor) without having to remove the old covering. This not only avoids the normal disturbances caused when renovating, but also saves the client time and money. The new floor covering can then be used and walked upon immediately. When the covering applied becomes worn after years of use, it can be removed quickly and easily, without leaving any adhesive residues.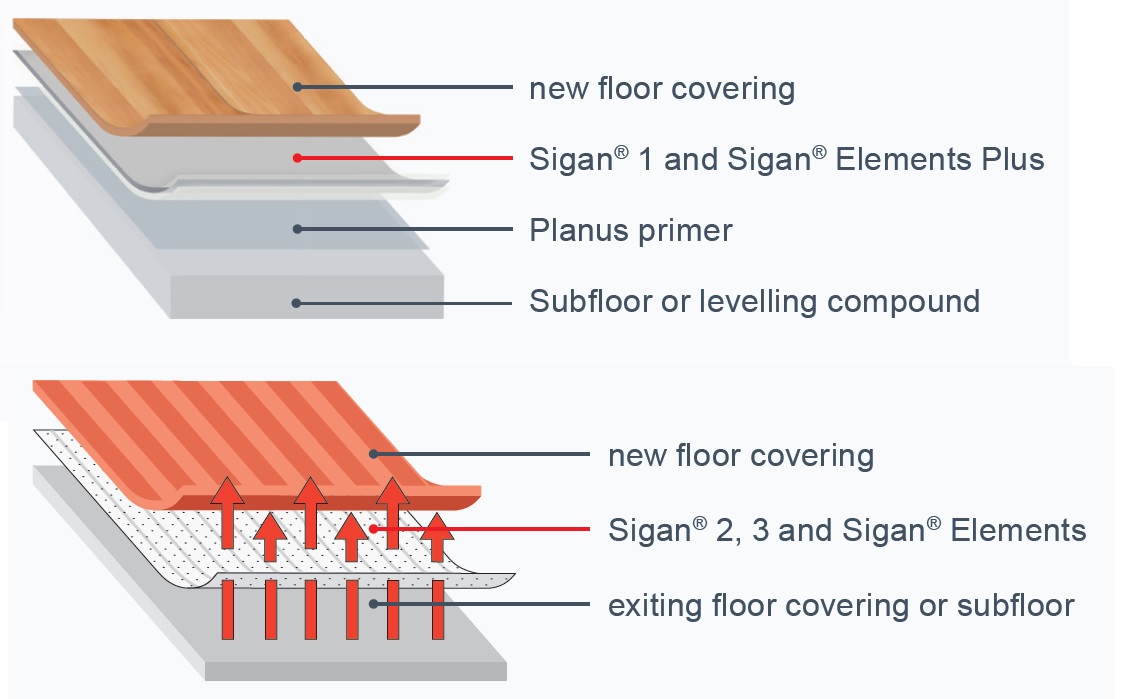 UZIN U-Tack: The Multi-purpose Skirting Tape
UZIN U-Tack provides a quick, clean and safe installation of skirting, coving and capping! The multi-purpose contact tape that can be used to install a huge range of lino, vinyl and PVC products. UZIN U-Tack skirting tape does not become brittle, providing a secure and extremely durable bond. The installation is also quicker, cleaner and most importantly solvent free. The product therefore does not require any special PPE (personal protective equipment) or work protection measures. With solvent based adhesives you would need to protect your skin and airways to exposure of the adhesive and its fumes. Many solvent based contact adhesives are also highly flammable whereas with skirting tapes there are no explosion risks for the installer during application. Due to the health and safety risks for both installers and clients the use of solvent based contact adhesives are now becoming banned from hospitals and other sensitive environments.